Youth Programs
Episcopal Youth Community - EYC
The adolescent years can be some of the most difficult. We stand ready to assist youth and parents, and we trust our ministry will offer insight and vision for youth as they travel on their individual and corporate spiritual journeys.
Generally, EYC meets with the Youth of St. Alexis, Jackson, on Sunday night for dinner and a blend of social and spiritual activities. In a relaxed atmosphere of fellowship and fun, the Curate and adult mentors attempt to bring the Christian faith to life in ways that relate to the daily experience of youth. Educational program, social events and service projects.
Vacation Bible School
"Christmas in June"

This year we are delighted to announce that Saint Paul's Church, Bovina, will collaborate with Bovina Methodist and Saint Alban's. With the additional children from Saint Paul's Church will also come additional adult help.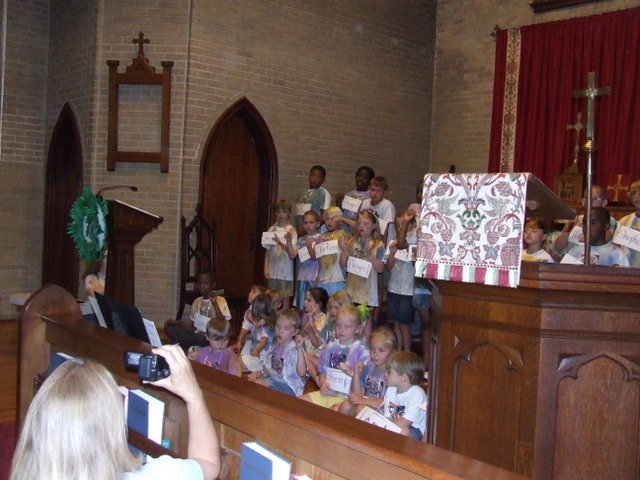 St. Albanís engaged in serving others along with St. Paulís and Bovina United Methodist churches by conducting Vacation Bible School June 20-23 at St. Albanís. The churches have decided to rotate Vacation Bible School on a three year cycle. This year St. Albanís had the privilege. The St. Alban's parish hall was transformed into Christmas in June.
The community gathered for fellowship, fun and food. Each night a crew of volunteers arrived ready for the eveningís activities and left joyfully exhausted only to return the next night for a repeat. This exuberant, contagious enthusiasm is St. Albanís at its best.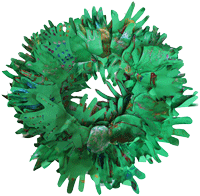 The wreath of hands that was created in one activity sums it up. In case you are wondering what in the world I am talking about, let me tell you. One activity was to trace your hand on green paper and decorate with glitter glue. The children and many of the adults present completed this activity resulting in a wreath of hands.
The wreath is on display in the parish hall along with the banners. The start of one hand picked up where the other left off in the same way that each member of the community gave. Each gave as he/she best could: monetary donations, prayers, served meals, supervised the space jump, created crafts, painted banners, traced hands, set up and took down tables, took out trash, and sang. Many hands make light work; and indeed there were many hands.