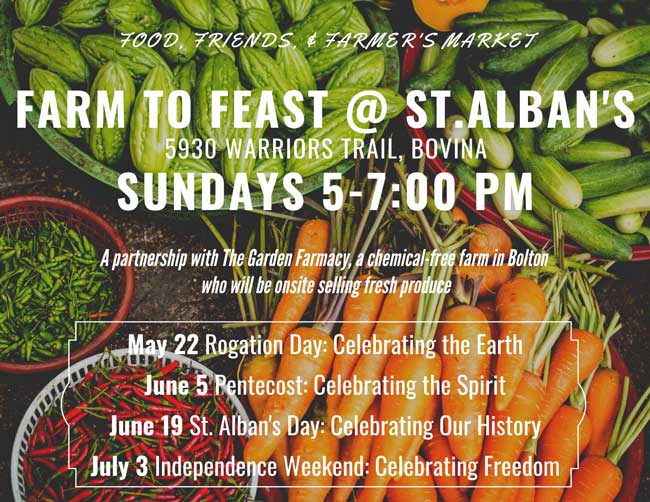 Here's to a great summer of fellowship & community!
We're trying something new at St. Alban's this summer! A series of fellowship events called Farm to Feast have been planned for Sunday evenings on May 22, June 5, June 19, and July 3, from 5:00-7:00 pm each evening on the St. Alban's grounds. These events have several goals:
--getting our community together outside to enjoy our beautiful property;
--providing an easy venue to invite friends to come experience St. Alban's;
--giving us a chance to reach out to our neighbors,
especially those who might need food assistance.
Each evening will feature a mini farmer's market courtesy of The Garden Farmacy, a chemical-free farm in Bolton, who will be bringing their fresh, seasonal produce. We will also have a meal and activities centered on a theme that will change each Sunday.
On May 22, we're celebrating Rogation Sunday, a traditional day in the church for blessing crops and farmers and remembering our connection to the earth. We'll observe Rogation Sunday by blessing our new pet memorial rock garden, hosting a plant swap, engaging in creation-focused crafts, having a beekeeping demo, and an outdoor prayer walk.
On June 5, we'll celebrate Pentecost in collaboration with the other Episcopal churches of Warren County. To celebrate the Holy Spirit, we'll be firing up the grill, having a bonfire, and kicking off an intergenerational Vacation Bible School/ Episcopal Revival.
On June 19, we're celebrating our history by observing St. Alban's Day, since the feast of our patron saint is June 22. Shawn Williams will have his BBQ truck out all day smoking pork and chicken, and we will sell tickets for BBQ plates. We'll celebrate St. Alban's by offering church tours, relaxing on the grounds with live music, and showcasing art & baked goods from our community.
Finally, on July 3, we'll have another cookout with a water slide for the young at heart and yard games.