Caring for one another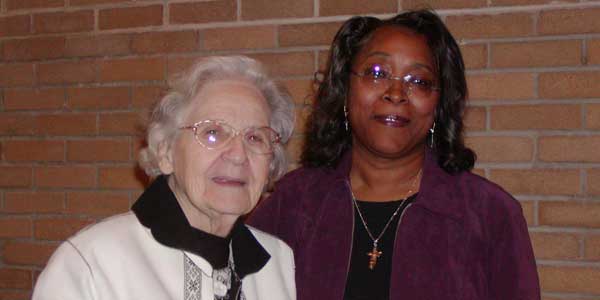 As a community of faith, St. Alban's strives to care for its fellow parishioners in times of need. While clergy are, of course, instrumental in providing pastoral care to parishioners, lay pastoral care teams are made up of parishioners who comfort parishioners in need with cards, food, flowers, fellowship, and Eucharistic visits.
If you or someone you know is in need, please contact the church office at 636-6687.
Some of our pastoral care efforts at St. Alban's include:
Flower Delivery
Following Sunday services and during the seasons of Christmas and Easter, flowers are delivered to those who are unable to attend church services, whether they are in the hospital or at home. Flowers are a way to share the beauty of God's creation and a connection with the larger parish family with those who are unable to attend or who are experiencing difficult times in their life.
Prayer Lists
Parishioners and loved ones are prayed for during weekly services and are listed in the Sunday bulletin for the parish community to hold up in prayer during the week. An email prayer list is available to those who wish to receive immediate news of a prayer request. The Daughters of the King also maintain a confidential prayer list for their daily prayers if you have a request that you wish to remain completely confidential. Prayers from our Sunday More Than A Meal guests are also offered during Sunday worship and chapel services.
Eucharistic Visitors
Eucharistic visitors are lay persons who take Holy Communion following Sunday services to parishioners who are ill or otherwise unable to attend services. The Communion shared at the Sunday service is one way to connect parishioners with their parish family as well as their God. Eucharistic visitors receive training to better equip them to exercise this ministry.
Clergy Visitation
The clergy are available to visit persons in the hospital, home or nursing home as requested. Prior to surgery or in an emergency, please contact the church office so that the clergy will know and may pray with and for you. A clergyperson is available at all times when you are in need.